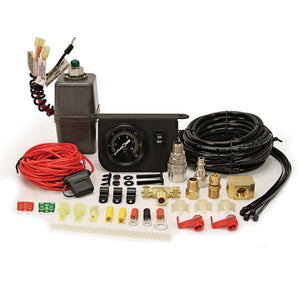 This 90 PSI On to 120 PSI Off Onboard Air Hookup Kit is custom designed to work with VIAIR Compressors, this hookup kit includes a Pressure Switch with Built-in Relay and an illuminated dash panel gauge with built-in ON/OFF switch. Also comes with 20 ft. of positive extension wire, 20 ft. of air delivery line tubing, as well as every part you will need to hook up to an air tank for a multi-purpose onboard air system.
Included Parts:
(1) Illuminated Dash Panel Gauge
(1) 20 Ft. 1/4" O.D. Air Line Tubing
(1) Pressure Switch with Built-In Relay
(1) 20 Ft. Lead Wire with Inline Fuse
(1) 1/4" (F) NPT Tee Fitting
(1) 1/4" to 1/8" NPT Reducer
(1) 1/4" Quick Connect Coupler
(1) 1/4" (F) NPT Quick Connect Stud
(1) 1/4" (M) NPT Compression Fitting*
(1) 1/4" (M) NPT Compression Tee Fitting*
(3) Insulated (F) Terminal Connectors
(2) Insulated (M) Terminal Connectors
(2) Quick Splice Connectors
(3) Ring Terminals
(6) Cable Ties
(3) Cable Tie Brackets
(3) Air Line Clips
(1) Continuous Grommet
(2) Mounting Screws, Washers, Nuts
(1) Instruction Manual
*All compression fittings are for 1/8" O.D. air line.