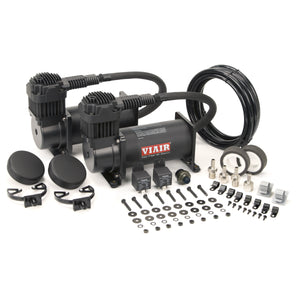 Whether you need air for commercial, industrial or recreational applications, our Dual Stealth Black 380C Value Pack has got you covered. This 200 PSI rated powerhouse comes with two 380C compressors, two heavy-duty 40-amp relays and a 165/200 P. Switch - all perfectly paired to give you the power and performance you're after. Filling tank volumes up to 10 gallons, it's the one-stop-shop for all your air needs.
380C Dual Performance Value Packs include two 380C compressors, two heavy duty 40-amp relays and a 165 PSI cut-on, 200 PSI cut-off pressure switch. Each Dual Performance Value Pack comes with remote mount filter assemblies and mounting hardware. 
Dual Performance Value Packs are rated to fill tank volumes 
up to 10 gallons.
FEATURES
– (2) 380C Stealth Black Air Compressors
– (2) Air Filter Assemblies
– (2) Remote Mount Brackets
– (2) Sets of Remote Mount Fittings
– (2) Sets of Spare Air Filter Elements
– (2) Leader Hose Clips
– (6) Air Line Clips with Included Hardware
– (8) Sets of Nuts, Bolts, Washers and Lock Washers
– (2) 40-Amp Relays
– (1) One Heavy Duty Pressure Switch (110 PSI on, 145 PSI off)
– (2) Stainless Steel Braided Leader Hoses with Inline Check Valve
– Air Line (For Remote Mount Filter Installation)
SPECIFICATIONS
– 12-Volt
– Permanent Magnetic Motor
– Duty Cycle: 100% @ 100 PSI (55% @ 200 PSI)
– Max. Working Pressure: 200 PSI
– Max. Air Tank Size: 10.0 Gallon
– Combined Max. Amp Draw: 44 Amps
– Ingress Protection Rating: IP67
– Dimensions: 9″L x 4″W x 6.75″H (Each Unit)
– Net Weight: 17.50 lbs.
PERFORMANCE DATA
| PSI | CFM | A | BAR | LPM | A |
| --- | --- | --- | --- | --- | --- |
| 0 | 2.54 | 28 | 0 | 72.0 | 28 |
| 10 | 2.42 | 29 | 1.0 | 67.0 | 30 |
| 20 | 2.30 | 31 | 2.0 | 61.7 | 33 |
| 30 | 2.17 | 33 | 3.0 | 57.5 | 34 |
| 40 | 2.07 | 34 | 4.0 | 53.5 | 36 |
| 50 | 1.95 | 35 | 5.0 | 49.8 | 37 |
| 60 | 1.87 | 36 | 6.0 | 46.4 | 39 |
| 70 | 1.78 | 37 | 7.0 | 43.3 | 41 |
| 80 | 1.70 | 38 | 8.0 | 40.3 | 43 |
| 90 | 1.61 | 39 | 9.0 | 37.2 | 44 |
| 100 | 1.54 | 41 | 10.0 | 34.5 | 42 |
| 110 | 1.46 | 42 | 11.0 | 31.8 | 41 |
| 120 | 1.40 | 43 | 12.0 | 29.2 | 40 |
| 130 | 1.32 | 44 | 13.0 | 26.6 | 38 |
| 140 | 1.25 | 43 | 14.0 | 23.7 | 37 |
| 150 | 1.19 | 42 | | | |
| 160 | 1.12 | 41 | | | |
| 170 | 1.06 | 40 | | | |
| 180 | 0.99 | 39 | | | |
| 190 | 0.93 | 38 | | | |
| 200 | 0.86 | 37 | | | |
* Supply Voltage: 13.8 Volts
FILL RATES
| 2.5 Gallon Tank | Fill Rate |
| --- | --- |
| 0 to 200 PSI | 3 min. 13 sec. (± 10 sec.) |
| 165 to 200 PSI | 53 sec. (± 05 sec.) |
| 5.0 Gallon Tank | Fill Rate |
| 0 to 200 PSI | 7 min. 11 sec. (± 15 sec.) |
| 165 to 200 PSI | 2 min. 06 sec. (± 10 sec.) |