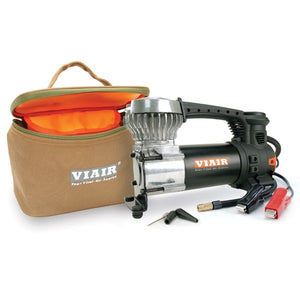 87P is a small portable compressor with a built-in LED work light, capable of inflating tyres up to 31-inches. Simply attach the heavy duty battery clamps to your vehicle's battery and start your engine. Connect the screw-on tyre chuck to a tyre valve stem before turning the unit on. tyre pressure can be monitored using the gauge located on the top of the unit.
The 87P offers direct power connection to the battery allowing it to work with any vehicle regardless of the auxiliary power outlet rating.
FEATURES
– 100 PSI Pressure Gauge
– LED Work Light / Power Indicator
– Dual Battery Clamps
– Solid Brass Twist-on Tire Chuck
– 3 pc. Inflation Tips Kit
– Deluxe Carry Bag
SPECIFICATIONS
– 12-Volt
– Permanent Magnetic Motor
– Duty Cycle: 20 min. @ 30 PSI
– Max. Working Pressure: 60 PSI
– Max. Amp Draw: 15 Amps
– Ingress Protection Rating: IP53
– Max. Ambient Temp: +158°F
– Min. Ambient Temp: -4°F
– Dimensions: 9.1″L x 3.1″W x 5.6″H
– Net Weight: 4.30 lbs.
– Power Cord Length: 10 ft.
– Air Hose Length: 8 ft.
PERFORMANCE DATA
| PSI | CFM | A | BAR | LPM | A |
| --- | --- | --- | --- | --- | --- |
| 0 | 1.26 | 13 | 0 | 35.7 | 13 |
| 10 | 1.22 | 13 | 1.0 | 33.5 | 13 |
| 20 | 1.13 | 13 | 2.0 | 29.3 | 14 |
| 30 | 1.02 | 14 | 3.0 | 24.8 | 15 |
| 40 | 0.92 | 15 | 4.0 | 20.5 | 13 |
| 50 | 0.80 | 14 |   |   |   |
| 60 | 0.71 | 13 |   |   |   |
* Supply Voltage: 13.8 Volts
FILL RATES
| 195/70R14 | FILL RATE |
| --- | --- |
| 0 to 30 PSI | 2 min. 10 sec. (± 10 sec.) |
| 15 to 30 PSI | 1 min. 10 sec. (± 05 sec.) |
| 225/60R18 | FILL RATE |
| 0 to 30 PSI | 3 min. 00 sec. (± 10 sec.) |
| 15 to 30 PSI | 1 min. 35 sec. (± 05 sec.) |
| 31″ X 10.5″ | FILL RATE |
| 0 to 30 PSI | 4 min. 50 sec. (± 10 sec.) |
| 15 to 30 PSI | 2 min.35 sec. (± 05 sec.) |