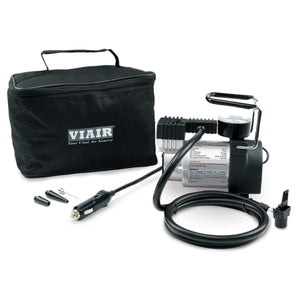 The 74P is exactly the same powerful portable tire inflator as our 70P but with a press-on chuck instead of a twist-on chuck. It has the same power and performance capable of inflating up to 225/60/R18 tyres by simply plugging into your cigarette lighter power port (Max: 15A/180W), connecting the press-on chuck and turning the unit on.
FEATURES
– Vibration Isolators
– Press-On Chuck
– 3 pc. Inflation Tips Kit
– 150 PSI Gauge
– 15-Amp Inline Fuse Holder
– Deluxe Carry Bag
SPECIFICATIONS
– 12-Volt
– Permanent Magnetic Motor
– Duty Cycle: 30 min. @ 30 PSI
– Max. Working Pressure: 100 PSI
– Max. Amp/Watt Draw: 15A/180W
– Ingress Protection Rating: IP54
– Max. Ambient Temp: +158°F
– Min. Ambient Temp: -4°F
– Dimensions: 6.5″L x 3.6″W x 6.2″H
– Net Weight: 5.05 lbs.
– Power Cord Length: 16 ft.
– Air Hose Length: 4 ft.
PERFORMANCE DATA
| PSI | CFM | A | BAR | LPM | A |
| --- | --- | --- | --- | --- | --- |
| 0 | 1.06 | 12 | 0 | 30.0 | 12 |
| 10 | 1.01 | 13 | 1.0 | 27.5 | 13 |
| 20 | 0.92 | 13 | 2.0 | 23.9 | 14 |
| 30 | 0.84 | 14 | 3.0 | 20.6 | 14 |
| 40 | 0.76 | 14 | 4.0 | 17.1 | 15 |
| 50 | 0.67 | 15 | 5.0 | 14.5 | 14 |
| 60 | 0.59 | 15 | 6.0 | 11.4 | 13 |
| 70 | 0.53 | 14 | 7.0 | 9.1 | 13 |
| 80 | 0.46 | 14 |   |   |   |
| 90 | 0.38 | 13 |   |   |   |
| 100 | 0.33 | 13 |   |   |   |
* Supply Voltage: 13.8 Volts
FILL RATES
| 195/70R14 | FILL RATE |
| --- | --- |
| 0 to 30 PSI | 2 min. 55 sec. (± 10 sec.) |
| 15 to 30 PSI | 1 min. 45 sec. (± 05 sec.) |
| 225/60R18 | FILL RATE |
| 0 to 30 PSI | 4 min. 22 sec. (± 10 sec.) |
| 15 to 30 PSI | 2 min. 10 sec. (± 05 sec.) |