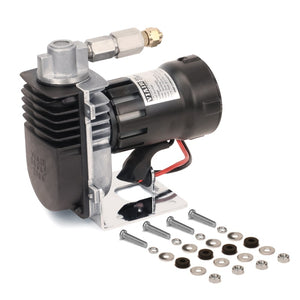 VIAIR's 65C compressor offers a light-duty solution for smaller air requirements at a low price point. Designed to fill no larger than a 1-gallon tank, this compact unit has a max working pressure of 90 PSI and is typically used on trucks, cars, motorcycles and other light pneumatic applications in the industrial field.
FEATURES
– Check Valve
– Compression Fitting for 1/4″ Airline (Pre-installed)
– Vibration Isolators
– Mounting Hardware
– Installation Instructions
SPECIFICATIONS
– 12-Volt
– Gear Driven Motor
– Duty Cycle: 15% @ 90 PSI
– Max. Working Pressure: 90 PSI
– Max. Air Tank Size: 1.0 Gallon
– Max. Amp Draw: 10-Amps
– Ingress Protection Rating: IP54
– Max Ambient Temp: +158°F
– Min Ambient Temp: -40°F
– Dimensions: 5″L x 2.9″W x 4.8″H
– Net Weight: 1.6 lbs.
PERFORMANCE DATA
PSI
CFM
A
BAR
LPM
A
0
0.92
7
0
26.0
7
10
0.57
8
1.0
15.0
8
20
0.53
8
2.0
14.0
9
30
0.49
9
3.0
13.0
12
40
0.46
9
4.0
11.0
9
50
0.42
9
5.0
10.0
10
60
0.39
10
6.0
8.0
10.0
70
0.36
10
80
0.33
10
FILL RATES
| 0.5 GALLON TANK | FILL RATE |
| --- | --- |
| 0 to 80 PSI | 58 sec. (± 05 sec.) |
| 55 to 80 PSI | 21 sec. (± 03 sec.) |
| 1.0 GALLON TANK | FILL RATE |
| 0 to 80 PSI | 1 min. 45 sec. (± 05 sec.) |
| 55 to 80 PSI | 46 sec. (± 05 sec.) |