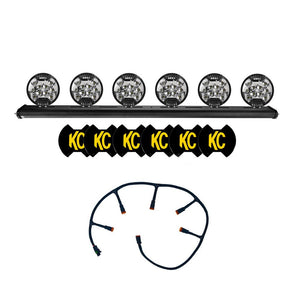 KC's 50" Xross Bar provides an overhead mounting solution to mount 6 SlimLite LED lights to many vehicle types. Featuring a low profile, aerodynamic extruded aluminum design with integrated wire management and slotted light mount holes. All LED 6-light kits include Xross Bar specific wiring harnesses, for a clean and simple plug-n-play install.
FEATURES
-Designed to Securely Mount (6) 6" Halogen or LED Lights Overhead 
-6063 T6 Extruded Aluminum Construction
-Satin Black Powder Coat Finish
-Low Profile Aerodynamic Design to Reduce Drag and Wind Noise
-Can be Mounted Directly in Place of Any Standard 50" Overhead LED Light Bar
-LED Light Kits Use Xross Bar Specific Wiring Harnesses for a Clean, Plug-N-Play Install
-Integrated Wire Management Using a Recessed Channel and R-Clips for a Clean Install

NOTES
-This is a Universal application and is not designed to fit a specific vehicle

SLIMLITE LED PERFORMANCE (PER LIGHT)
-Watts: 50W
- Raw Lumens: 7,260 lm
- Lux @ 10 Meters: lx
- Candela: 119,000 cd
- Beam Distance (Meters):

SPECIFICATIONS
-Dimensions: H - 1.911" x D - 3.605" x W - 51.39" (Universal 50" Xross Bar Only)
-Note: Maximum height will vary depending on size of light mounted to KC 50" Overhead Xross Bar Light Mount

PARTS INCLUDED
-(1) 50" Extruded Aluminum Xross Bar Light Mount
-Light Kits Include Wiring and Light Switches
-(10) Wire Management R-Clips

SLOTTED MOUNTING HOLES
With pre-configured mounting holes, the Xross Bar can securely hold anywhere from 2 to 9 lights with ease. Slotted holes allows for extra customization and to accommodate a variety of light sizes. KC also offers 6-light overhead halogen or LED lighting kits, that allow you to mount and position 6 lights overhead with ease to provide powerful off road lighting output.

INTEGRATED WIRE MANAGEMENT
KC Xross bar features a recessed channel and series of R-Clips for an integrated wire management system. Simply attach your lights and run wiring underneath through the recessed channel for a quick, clean and easy install. No messy wires and zip ties here, KC's taken the headache out of wiring multiple lights to get you on the road quickly.

JEEP JL/JT MOUNTING KITS AVAILABLE
KC has developed turn-key Jeep Wrangler JL/JT mounting solutions, offering Jeep JL/JT specific Overhead Mounting Kits. Lighting packages make choosing the right lighting configuration easy for your Jeep JL/JT Wrangler.

LED OVERHEAD LIGHTING KITS
Slimlite LED Spot Beam: KC's 6-Light Slimlite LED Xross Bar Kit provides you with everything you need to mount 6 spot beam Slimlite LED lights overhead of your vehicle using KC's 50" Xross bar mounting system. What you get is 43,560 lumens of balanced light output, using a Spot Beam to provide powerful forward distance, along with good periphery fill for clarity and equal beam distribution. Our kits include a unique, simple plug-n-play wiring harness to connect lights easily and quickly.

DESIGN AND CONSTRUCTION
The KC Xross Bar features a low profile aerodynamic design constructed from high quality 6063 T6 Extruded Aluminum in an attractive satin black powder coat finish. This makes the KC Xross Bar lighter than steel bar options on the market, while being highly durable with its resistance to corrosion and rust.