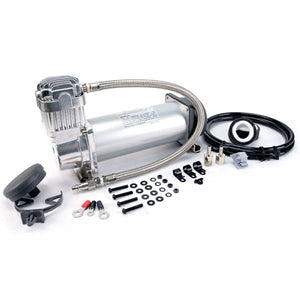 450H is a continuous duty, hardmount compressor intended to directly fill tyres or other items using a open-ended coil hose (not included). The 450H comes with a built-in, moisture resistant ON/OFF power switch. Features include a heavy duty stainless steel leader hose with a 1/4" quick connect stud for hookup to a coil hose and insulated wiring for simple installation.
FEATURES
– Check Valve
– Vibration Isolators
– Mounting Hardware
– 1/4″ Quick Connect Stud
– Stainless Steel Braided Leader Hose
– Air Line for Remote Mount Air Filter
– Remote Mount Air Filter Assembly
– (2) Replacement Air Filter Elements
– Installation Instructions
SPECIFICATIONS
– 12-Volt
– Permanent Magnetic Motor
– Duty Cycle: 100% @ 100 PSI
– Max. Working Pressure: 150 PSI
– Max. Amp Draw: 23 Amps
– Ingress Protection Rating: IP54
– Dimensions: 11.63″L x 3.94″W x 6.75″H
– Net Weight: 11.05 lbs.
PERFORMANCE DATA
| PSI | CFM | A | BAR | LPM | A |
| --- | --- | --- | --- | --- | --- |
| 0 | 1.80 | 12 | 0 | 51.0 | 12 |
| 10 | 1.75 | 14 | 1.0 | 47.6 | 15 |
| 20 | 1.60 | 16 | 2.0 | 43.3 | 17 |
| 30 | 1.52 | 15 | 3.0 | 38.2 | 18 |
| 40 | 1.39 | 18 | 4.0 | 34.0 | 19 |
| 50 | 1.27 | 19 | 5.0 | 30.5 | 20 |
| 60 | 1.18 | 19 | 6.0 | 28.1 | 21 |
| 70 | 1.09 | 20 | 7.0 | 26.4 | 22 |
| 80 | 1.04 | 20 | 8.0 | 25.0 | 23 |
| 90 | 0.97 | 22 | 9.0 | 23.0 | 22 |
| 100 | 0.94 | 22 | 10.0 | 21.0 | 21 |
| 110 | 0.90 | 23 | | | |
| 120 | 0.86 | 23 | | | |
| 130 | 0.81 | 22 | | | |
| 140 | 0.76 | 21 | | | |
| 150 | 0.72 | 20 | | | |
* Supply Voltage: 13.8 Volts
FILL RATES
| 33″ x 12.5″ | Fill Rate |
| --- | --- |
| 0 to 30 PSI | 5 min. 30 sec. (± 10 sec.) |
| 15 to 30 PSI | 2 min. 50 sec. (± 05 sec.) |
| 35″ x 12.5″ | Fill Rate |
| 0 to 30 PSI | 6 min. 55 sec. (± 15 sec.) |
| 15 to 30 PSI | 3 min. 30 sec. (± 10 sec.) |
| 37″ x 12.5″ | Fill Rate |
| 0 to 30 PSI | 7 min. 56 sec. (± 15 sec.) |
| 15 to 30 PSI | 4 min. 09 sec. (± 10 sec.) |