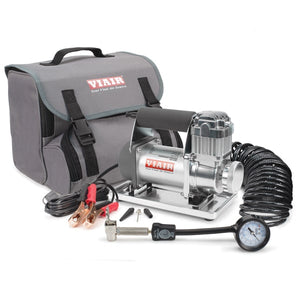 The VIAIR 300P-RVS is a powerful, yet compact 12-volt portable tyre inflator perfect for RV Towables and smaller RV's. With the updated 30 ft. coil hose, the 300P-RVS is able to reach and fill most Towable size tires from 80 to 90 PSI in just 44 seconds.
Tyres are the foundation of your home while on the road. That's why tyre pressure maintenance is essential for all RVers. The "RVS" line is designated as "RV-Safe" because they are specifically designed and tested for the RV market. Avoid wasting time locating the nearest gas station and reduce your risk of being stuck on the side of the road when using this handy tyre inflator.
How to use: Simply clamp the power leads to your battery, connect the tyre chuck to the valve stem and turn the unit on to begin filling tyres. Confirm proper tyre pressure using the 5-in-1 Inflator/Deflator inline pressure gauge by turning the compressor off to check the pressure then to resume inflation turn the compressor back on. Each tire inflator comes equipped with hoses long enough to reach your RV tyres, a convenient carry bag, and all necessary components.
FILL RATES
| 33″ (245/70R19.5) | FILL RATE |
| --- | --- |
| 50 to 60 PSI | 55 sec. (± 03 sec.) |
| 60 to 80 PSI | 1 min. 41 sec. (± 05 sec.) |
| 80 to 90 PSI | 44 sec. (± 03 sec.) |
| 90 to 110 PSI | 1 min. 38 sec. (± 05 sec.) |