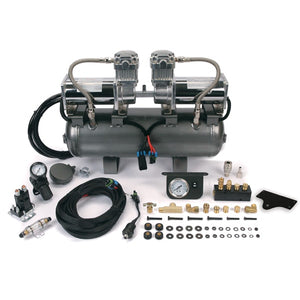 Using two high output compressors mounted to a 2.0 gallon, 5-port air tank all required components are included to allow the installation of a high pressure onboard air system that provides 200 PSI maximum pressure. 2on2 systems all come complete with an easy-to-install wiring harness and manifold to make wiring and plumbing the system straightforward.
Note: 2on2 Bolt-On Platform systems in universal models
are not equipped with a crossmember mounting bracket.
SPECIFICATIONS
– 12-Volt
– Permanent Magnetic Motor
– Duty Cycle: 100% @ 100 PSI
– Duty Cycle: 55% @ 200 PSI
– Max. Working Pressure: 200 PSI
– Max. Amp Draw: 44 Amps
– Ingress Protection Rating: IP67
– Dimensions: 18.5″L x 5.9″W x 13.5″H
– Net Weight: 30 lbs.
PRE-INSTALLED
– 2.0 Gallon 5-Port Air Tank
– (2) 380C Air Compressors
– (2) 1/4" Stainless Steel Braided Leader Hoses
– (2) 1/4" JIC Fittings on Leader Hoses
– 1/4" NPT Swivel to 1/4" NPT Swivel
– T-Fitting (Remote Mount Filter)
– 1/4" NPT Drain Cock
– Sealed Pressure Switch with Delphi Connectors
(165 PSI On, 200 PSI Off)
(2) Loomed Compressor Wires Terminated
with Delphi Connectors
– Inline Fuse Holder with Fuse
– 1/4" NPT Safety Valve
– (4) 1/4" NPT M Recessed Plugs
INCLUDED IN KIT
– 60-amp Fuse & Fuse Holder
– 80-amp Relay
– (2) 1/4" BSP Adapters for Air Lockers
– T-Fitting 1/4″ NPT F x 1/4″ NPT F x 1/4″ NPT M
– 1/8″ to 1/4″ NPT Reducer
– Wiring Harness with Delphi Connectors
– (2) Delphi Connector Plug Kits
– Billet 1/4" NPT x 6-Port Manifold and Mounting Bracket
– Air Filter Housing with Installed Element
– (2) Replacement Air Filter Elements
– Dash Panel Air Pressure Gauge (0-160 PSI Illuminated)
– Air Pressure Regulator
– 15ft. DOT Air Line
PERFORMANCE DATA
| PSI | CFM | A | BAR | LPM | A |
| --- | --- | --- | --- | --- | --- |
| 0 | 2.54 | 28 | 0 | 72.0 | 28 |
| 10 | 2.42 | 29 | 1.0 | 67.0 | 30 |
| 20 | 2.30 | 31 | 2.0 | 61.7 | 33 |
| 30 | 2.17 | 33 | 3.0 | 57.5 | 34 |
| 40 | 2.07 | 34 | 4.0 | 53.5 | 36 |
| 50 | 1.95 | 35 | 5.0 | 49.8 | 37 |
| 60 | 1.87 | 36 | 6.0 | 46.4 | 39 |
| 70 | 1.78 | 37 | 7.0 | 43.3 | 41 |
| 80 | 1.70 | 38 | 8.0 | 40.3 | 43 |
| 90 | 1.61 | 39 | 9.0 | 37.2 | 44 |
| 100 | 1.54 | 41 | 10.0 | 34.5 | 42 |
| 110 | 1.46 | 42 | 11.0 | 31.8 | 41 |
| 120 | 1.40 | 43 | 12.0 | 29.2 | 40 |
| 130 | 1.32 | 44 | 13.0 | 26.6 | 38 |
| 140 | 1.25 | 43 | 14.0 | 23.7 | 37 |
| 150 | 1.19 | 42 | | | |
| 160 | 1.12 | 41 | | | |
| 170 | 1.06 | 40 | | | |
| 180 | 0.99 | 39 | | | |
| 190 | 0.93 | 38 | | | |
| 200 | 0.86 | 37 | | | |
* Supply Voltage: 13.8 Volts
FILL RATES
| 2.0 GALLON TANK | FILL RATE |
| --- | --- |
| 0 to 200 PSI | 2 min. 35 sec. (± 10 sec.) |
| 165 to 200 PSI | 40 sec. (± 05 sec.) |
| 37″ X 12.5″ | FILL RATE |
| 0 to 30 PSI | 5 min. 00 sec. (± 15 sec.) |
| 15 to 30 PSI | 2 min. 30 sec. (± 10 sec.) |
| 40″ X 15.5″ | FILL RATE |
| 0 to 30 PSI | 5 min. 25 sec. (± 15 sec.) |
| 15 to 30 PSI | 2 min. 40 sec. (± 10 sec.) |