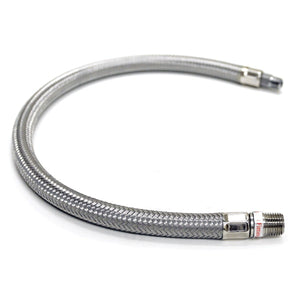 1/4″ (M) to 1/4″ (M) SWIVEL – 18″
18in S.S. Braided Leader Hose (1/4in M to 1/4in M, NPT, Swivel)
All fittings are NPT thread.
Use thread sealant for proper installation.
Teflon tape is not recommended.
Properly sealed, recommended torque for 1/8in is 10 ~ 11 ft. lbs. Recommended torque for 1/4in and 3/8in is 16 ~ 18 ft. lbs.